Our Foundation
Manarah Islamic Academy is the foundation upon which we strive to build an Islamic community that adheres to the Qur'an and authentic Sunnah.
Our Legacy
Manarah started with a humble beginning of less than 10 students in 2004. We have consistently grown over the years to our current enrollment of over 140 students.
Committed Team
Teachers, administrators, volunteers, parents, students and the community share the responsibility for advancing the school's mission and serve as excellent role models.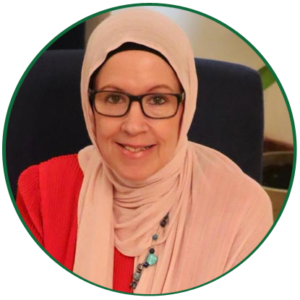 Dr. Debbie Badawi brings a plethora of teaching and leadership experience that spans over two decades. She demonstrates expertise in K-12 education and holds several credentials. They include a Doctorate in Educational Leadership & Administration, a Master's Degree in Curriculum and Instruction, a Bachelor's of Science Degree in Secondary Education/English, and multiple certifications in teaching, instruction, and supervision. Her diverse elementary and secondary school experience spans the public, private, juvenile justice, and international sectors of education.
Her success is grounded in building personal and authentic relationships with people and is driven by being steadfast in service to others. Dr. Debbie's ability to establish and nurture high functioning teams with a keen focus on quality and excellence produces future driven, exponential, comprehensive results for the organization she serves. She leads others to dream big, reach high, and rise to the challenges of educational innovation and transformation.
Dr. Debbie is excited to have the opportunity to lead Manarah to provide the highest quality education and graduate students who will practice Islam as a complete way of life and become the leaders of a thriving Islamic community that adheres to the Qur'an and Sunnah.
I really appreciated environment that was fostered and how supportive the kids and teachers were with each other. Knowing that I didn't have to worry about what my son was going to be exposed to while at the same time a strong Islamic influence was helping to shape his young character.
I highly recommend Manarah Islamic Academy. The school provides a safe and healthy learning environment and all of the teachers and staff are dedicated to providing a nurturing learning experience for their students. The administration are constantly looking for ways to improve the school and the teachers put their heart and soul into their work and it's reflected in the love that my children have for each one of their teachers.
As a parent of the Manarah community, I am very pleased with the education my children have received. The personal care and warmth given by Manarah's staff is incomparable; I know they care about each student as "family." The instruction in all academic subjects is excellent. It is impossible to convey the wonderful moment when your child begins reading a children's book or a passage from the Holy Book aloud, begins understanding new math concepts, recounting an exciting Science or Social Studies project, or reciting a Surah from memory; Manarah's teachers have instilled these skills and knowledge. The extended parent community also devotes much time and energy to create a rich learning environment for the school. Class time is balanced with field trips, tournaments, and special activities. Every person at Manarah goes out of their way to enrich each class with creativity, fun, and value
As Salamu 'Alaykum Wa Rahmatullahi Wa Barakatuh Alhamdulillah, Manarah is an excellent private school here in the LeHigh Valley. My three children have been attending for the past several years. I can honestly say how much islamic growth and academic growth I have seen in them. The teachers and the entire staff are like a family. I don't consider Manarah just any old private school. It is a second home for my children and I. We value and appreciate all the hard work and effort the teachers and staff have made to nurture our children both on a spiritual and intellectual level. The school is a community of wonderful people that really care for your child's well-being. I am confident that my children have been taught more than just academic or religious studies. The love of Islam and good manners have been instilled in them that will help carry them for many more years to come. Manarah is like an extended family to us. We pray that Allah SWT blesses Manarah for many years to come and bless it to grow into a middle and high school so that our children continue attending for many more years. Public school is not an option for us. May Allah SWT also bless the excellent staff and teachers who help our children to become the bright guiding light for our future. Ameen. Thank You
My son started Pre-K this year at Manarah Islamic Academy. Alhamdulillah, it has been an incredible journey so far! The school is very well organized mashaAllah and provides a great balance between Islamic and academic education for their students. My son absolutely loves his teacher who has made it a joy for him to learn. We are thankful to the school and all who are involved in providing this opportunity for us. I look forward to seeing my son grow and shine in Manarah inshaAllah!
This is our sons's first year at Manarah Islamic Academy and it has been an absolute blessing for our family. We love the fact that the institution strives to deliver the best standardized education along with Islamic principles and values. The welcoming environment at the academy has helped us greatly in becoming a part of this community.
State of Art
Large classrooms to allow easy movement and team work. Indoor gym that supports different sports and activities. Well-equipped computer room for elementary students. Individualized Chromebook for all students in middle school. Dedicated rooms for Science Lab, Library, and Art Studio
Academic Achievements
We are proud of the academic achievements of our students at Manarah. A majority of our students that go to public school are admitted into gifted or advanced classes in their respective schools. Our Alumni currently attend MIT, Stanford, Penn State, Drexel, University of Pittsburgh, Emory, etc. Manarah students score higher on standardized tests.
Affordable
Our goal at Manarah is not to make profit and that is why we keep our tuition fee very low. In comparison to other private schools in the east coast with similar facility and educational standards, Manarah fees are lower! Manarah offers assistance for lower-income families. Applications are strictly confidential and handled with great dignity and compassion.
Our school is from PreK – 7th grade. We also have a full-time Hifz program.
Contact us for additional details:
Working Hours:
Mon-Fri 7:30 am – 3:30 pm
Sat-Sun: Closed
We invite you to visit us and we hope that you will make Manarah the next home for your children education.